Our research
We put neglected communities at the heart of drug R&D
DNDi invests in bringing all-new treatments through the research and development (R&D) pipeline – both by repurposing or modifying drugs from other therapeutic areas and by identifying and developing entirely new chemical entities.
We are committed to developing safe, effective, and affordable treatments for people with neglected diseases and neglected patients. Together with our partners, we are working on over 40 projects, including more than 20 new chemical entities. We are also running over 20 clinical trials.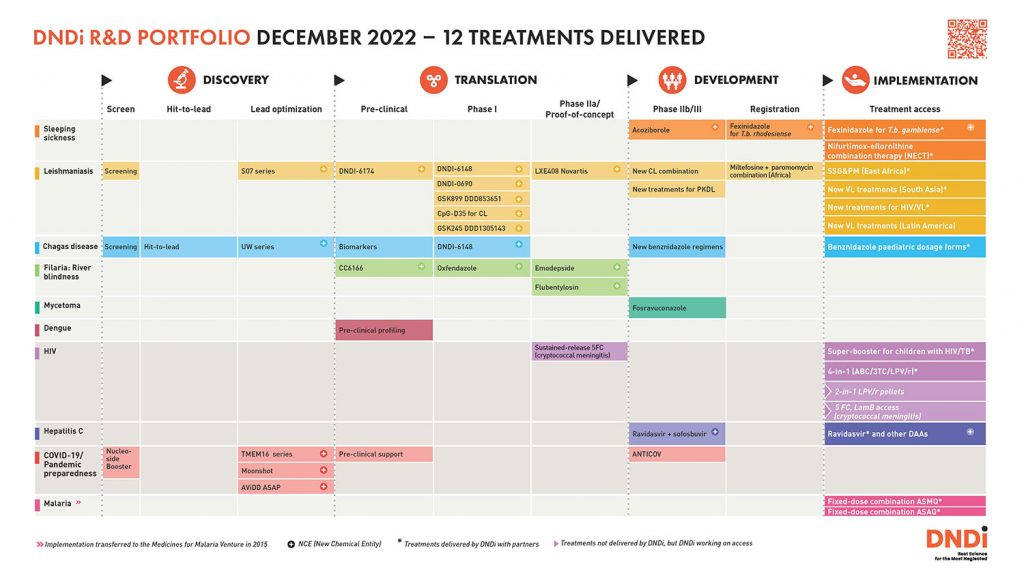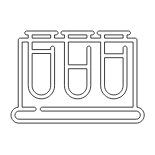 compounds screened to date new chemical entities in DNDi's portfolio at all stages of development a global network of public and private sector partners
Making medical history for neglected patients
We develop urgently needed treatments for neglected patients and ensure they're affordable, available, and adapted to the communities who need them.
 Transmitted by the bite of a tsetse fly and causes severe neurological disorders
 We delivered a revolutionary new drug to replace toxic treatments, and have ongoing trials to eliminate this disease
 Without treatment, half of children die before their second birthday
 We've developed a strawberry-flavoured treatment to meet the needs of children long neglected by the global HIV response
Causes heart and vital organ damage, after people are bitten by blood-sucking bugs
We delivered the first-ever treatment for children; now we're searching for new drug candidates and working to boost access to care
Devasting and deadly to many, there's too little research to help the most vulnerable
 We're accelerating research by coordinating clinical trials in low-resource settings and bringing together partners
 Lead to unbearable itching, disfiguring skin lesions, and even blindness
 We're working to develop a safe, effective, and affordable drug for the prevention and treatment of this debilitating disease
 Often ends in amputation​, after people get infected from stepping on a thorn
 We're conducting the world's first trial for an alternative to current treatments, which are toxic and ineffective
 One of the world's biggest parasitic killers, spread by the bites of sandflies
 We're working to develop a new generation of treatments to replace drugs that are painful, ineffective, and cause side effects
 Millions are left without treatment even though effective drugs exist
We've delivered a treatment as simple, safe, and effective as the best drugs available today – at a fraction of the cost
Without treatment, deadly for thousands of people with advanced HIV
We're working to improve access to life-saving treatments and developing an easier-to-use formulation
 Leaves disfiguring, life-long scars that lead to severe social stigma
We're working to develop safer, shorter treatments for this disabling disease
Rapidly spreading climate-sensitive disease with no specific treatment
We're building a global partnership with dengue-endemic countries to develop a first treatment
Help neglected patients
DNDi's generous supporters make sure we can take on the devastating diseases affecting the people who need our help the most.
Treatments delivered
Our teams have been working since 2003 to address gaps in the traditional biomedical R&D system that lead to serious unmet medical needs for neglected patients. Acting as a 'conductor of a virtual orchestra', DNDi collaborates with research partners around the world at all stages of the R&D process.
Together, we've discovered, developed, and delivered new treatments that reduce illness, suffering, and death from some of the world's most neglected diseases. Discover more about the treatments we've delivered on our international website dndi.org.
TREATMENT DELIVERED
An all-new, all-oral patient-friendly treatment. Approved by the European Medicines Agency in 2018, DNDi's first 'new chemical entity' cures the most common form of sleeping sickness in just 10 days of simple, 1-pill-per-day treatment.
TREATMENT DELIVERED
A strawberry-flavoured, '4-in-1' treatment for children. The 4-in-1 meets the treatment needs of the youngest children living with HIV. The combination of four antiretrovirals in easy-to-administer, heat-stable, strawberry-flavoured granules has been approved in South Africa.
Get our latest news, personal stories, research articles, and job opportunities.